EXCLUSIVE INTERVIEW...................................................
June 13, 2006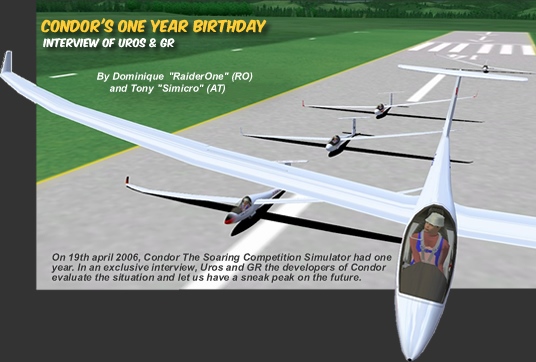 French Condor



Hi Uros and GR, first thank you for welcoming
us in your country, Slovenia, for this Condor's birthday interview. One year ago Condor the Competition Soaring Simulator took off. The simulator has by now reached its cruise speed. So if you agree let's evaluate the situation.
During these last weeks we have been carefully listening to the community and we would like to share with you as faithfully as possible some of their main concerns. But first of all, let's speak
a little about yourselves.

In the end of the 70's, two young computing wizards, Stephen
Wozniak and Steve Jobs, worked hard in their garage to release
the Apple I, a revolutionary micro-computer, the first of a long series. You guys are two also and Condor seems promised to a bright future...Could you please comment the parallel evoked ?
| | |
| --- | --- |
| Uros | We wouldn't compare ourselves to those two pioneers as their work really was a revolution. However, the thing we probably share with them is a lot of curiosity - a great will to create something new. |

| | | |
| --- | --- | --- |
| French Condor | As you know the online competition "LowLands Cup", set up by Vertigo and his team, met with a tremendous success in the community (800 registered pilots from 45 countries all over the world). How do you see it in comparison with the "Condor Grand Prix" spirit you initially intended to set up ? And considering this success story, have you planned to set up any "official" support to such major events ? And if so, by what means ? | |
| | |
| --- | --- |
| Uros | Lowlands Cup is a great competition, run by great people. The number and diversity of competitors is simply unbelievable. Last year, at the end of the soaring season (northern hemisphere), it was time for us to organize the big scale competition that we had promised on our pages. At the time we were very busy with Condor itself. Lowland Cup just came in the right moment. Rather than starting our own competition, we helped LLC team in their efforts. We are now tightly linked, the whole LLC team is also in our beta test team. This winter season's LLC was finished in April, but will be back in September as LLC2. It even might be called Condor Grand Prix. |

French Condor

The Condor Scenery Toolkit was eagerly awaited by third-party
authors and turned to be a big hit ! After the release of the superb
Eastern Alps scenery by Wolfgang Hake, a CST beta tester, many creations are now in progress. Some of them are even reaching the "gold" stage (see Key notes #1). Do you plan to officially support some of those sceneries ? In addition, considering the risk of their uncoordinated and uncontrolled spreads, is there any quality policy planned to guarantee the initial spirit and grahics style of the simulator (a key success factor) in the same idea as the thorough checking you already apply on the creations of new gliders ?
| | |
| --- | --- |
| Uros | For now, it's important that Condor supports version checking and file checking to prevent people from flying the same scenery with different files. Later, when more sceneries are released, the authors of new sceneries will have an option to get a "certificate of quality". This certificate will be issued by our beta test team after thorough test of the scenery. Sceneries with the certificate will be listed at Condor website along with a link provided by scenery authors. This official list will help major competitions like LLC and Speedbattle to organize races on approved and widespread landscapes. On the other hand, we would not like to influence the scenery developers to make a specific type of sceneries, we think they should be free to try new ideas. Currently the combination of synthetic textures for mountains and a clever way of using photo-realistic textures in the flat areas seems like the best compromise. |
| | |
| --- | --- |
| | |

French Condor

The release of numerous sceneries, the increased use of the
"Dedicated Server" and the many available gliders results in a large supply of tasks offered on an ever increasing number of multiplayers servers. Hence fewer pilots on each available task which reduces the interest of flying them online. Don't you think that might create a dispersion of the community flying activity ? And as "scheduled races" seem to be presently more successful than tasks proposed at the last minute, how about implementing
on the official site, a simple tool to help organizing those scheduled tasks ?
| | |
| --- | --- |
| GR | Indeed, there is still a space for improvements in creating better online race scheduling, etc. The one reason we are lagging behind more than we want is that the infrastructure we have is very limited and the problem we also faced is that we had entered with Condor onto a totally new ground when it comes to understanding the social pattern of an online soaring pilot. As we are coming from more combat flight simulations background and even rich online experience in that field, the difference is huge in comparing the two fields than it might be seen at first glance. Based on what we had learned so far, we are already planning on some changes in the upcoming months. And if you ask me if we are worried about the dispersion ? No, not at all. Different people have different needs, and if we can enable Condor users to easier identify themselves in which subgroup they are, the quality of online experience can only improve. |
| | |
| --- | --- |
| | |

French Condor

What improvements do you plan for the current simulator until the
version 2 release ? And by the way, do you have a planned number of patchs on the version 1 of Condor ? For the far future, could you share with us the approximate schedule as well as the main thread or "red line" for the V2 ?
Uros

Patch 9 should be the last major patch for version 1. The main objective of Patch 9 will be to improve the weather model. As you might imagine, the weather was thoroughly tested by a huge number of pilots in a year of flying Condor. It seems contradictory, bit as ourselves do not have much time to fly Condor, we can't completely assess the weather model, even if we designed it. That's why the feedback of pilots is very important, especially of our beta team members as we have better communication with them as with the others. We have some world class competition pilots in our beta team and a lot of gliding instructors so we are confident about the quality of feedback.

Patch 9 will also bring a wooden two-seater school glider, an ASK13. A lot of people miss a dedicated school plane in Condor and we also think that a lot of people are detracted from Condor because they think it's only good for competition training. We hope the introduction of ASK13 will help to change that opinion as we are convinced Condor is one of the best ways to learn gliding because of it's highly realistic physics engine. ASK13 can also be used for "old-style" competitions where modern instrumentation like GPS, logger or IPAQ is not allowed. Lowlands Cup has already organized a race with the Fox that doesn't have the Evario, GPS and IPAQ installed and it was very refreshing.

After patch 9, the development of version 2 will be the priority, but we expect a number of 3rd party addons (sceneries, planes) during the development. Probably one more patch of version 1 will be necessary to support plane packs. Version 2 will be a major step forward in weather area. We will add network support for two-seaters, support for motor gliders and a lot more, but we can't reveal more at the moment.
| | |
| --- | --- |
| | |

French Condor

More specifically , do you plan to implement (and when) weather
conditions that would be :

(A) significantly differentiated on the different areas of a scenery
(B) sometimes very evolutive within the same day (cold front,
..... storms etc.)
(C) significantly different according to the flight altitude
(D) sometimes bad (overcast conditions ie. 6/8 to 8/8, rain
..... showers...)
| | |
| --- | --- |
| Uros | This will be part of the new weather engine in version 2 (see Key notes #2) Along with good physics, which we believe is the foundation of every simulator, weather is certainly the most important area in soaring simulations. We would like the weather to demand a lot more tactical decisions from the pilots to make racing more interesting. We think it's important to make sure every single flight is a bit different, just as in real life. |

French Condor

There is very little criticism of the Condor flight model, which proves the high realism of the simulator. For the record and without talking of the towplanes, here are the main enhancements
to the gliders flight models since the initial release of Condor :

• Changes in v1.0.1 : Tweaked flight models for ASW27, Nimbus 4 ...and ASW22.

• Changes in v1.0.5 : Tweaks to the FM w/ flaps for inverted flying, ...tweaked ASW22, Nimbus4 and Fox ailerons sensitivity.

• Changes in v1.0.7 : ~15% aileron effectiveness increased for
.. ASW22 and Nimbus4. But still, do you think there is room for
.. improvements ?
Uros

Flight physics was our top priority when designing the simulator. The foundation for the flight physics was made before anything else. Soon after the first tests it was obvious that it is really really good. All the hours spent in the university, in the cockpit of gliders and flying model planes paid off. We knew we have made the most important and the most difficult part of the simulation and that the rest will be easyer. Later, there were still some improvements of physics during the development of Condor, but the basic principle stayed the same.

As for the enhancements you have mentioned - the data of each plane is not part of the core flight physics model - the core model was not changed in any way after the release. We just had to tweak a few parameters for some planes as we didn't have all the flight characteristics of these planes at the time we designed their flight model.

We still have ideas to make the flight physics even more realistic. But the implementation will be quite complex for relatively small improvement. But that's the way it is, once the model is almost perfect you can't improve it much more !
| | |
| --- | --- |
| | |

French Condor

The "Turbo Cmelak" towplane is a creation of a third-party author
that you included in the patch 7. We do not wish to speak about the
Plane Pack policy that you explained several time already. However, considering the number of gliders projects, could you tell us about the selection process and how you are working with the authors ?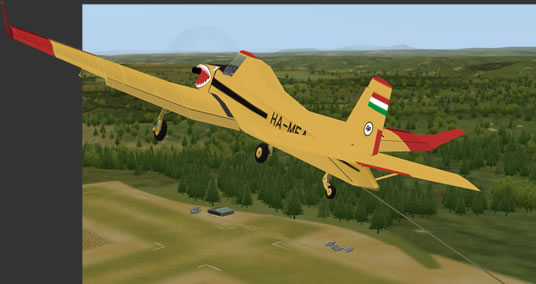 | | |
| --- | --- |
| GR | The nature of the user made glider projects denies use of any real scheduling, so our policy is to simply accept anything that meets our quality standard. However this, of course, is not as simple as it might sound. Majority of Condor enthusiasts which want to improve Condor with new gliders had never modeled for a production level of complexity. This unfortunately creates frustrations, and many simply drop out when they realize that they cannot finish the glider in the time frame they had estimated or up to the set standard. I guess some might now say that we might be a bit too picky when selecting these gliders. In defense, we can say that in the example of the "Turbo Cmelak", we accepted model which then needed extra work from our side where +50% of the model had been remodeled. So if plane model shows the potential, we will accept it, even if we need to put extra work from our side to finish it. Last but not least, we are always open to help modelers with giving directions or help with decisions, so we regularly inspect models which Condor users send us to observe the progress and help identify possible problems early enough. |

French Condor

In addition to successful initiatives such as the DS Helper by
Hitzi, how the good will of the growing community can help you
to enhance the simulator and its environment ?
Uros





GR

Condor community is one of the things that we are most proud of. If you just take a look at the forums you immediately see the friendly atmosphere there. Newcomers are warmly accepted and immediately get help and tips from more experienced users. We are also surprised by the knowledge and enthusiasm of Condor users.

There is no Condor without its community. We never expected it to grow so big and that it will include so many very talented people which enhance the simulator and its environment every day. Sometimes by small cookies, sometimes by big cakes...

French Condor

Multiplayer is certainly one of the main assets of Condor. However
it seems that there are still some recurrent crashs and freezes during online flight for some pilots. Do you think you can help them despite of the obvious difficulty to stabilize a software for many different user configurations ?
| | |
| --- | --- |
| Uros | We are trying hard to understand the crashes and are always looking to rewrite the part of the code that could potentially cause the problems. However, there is a lot of crashes that are completely caused by hardware or driver issues. For patch 9, we have found and fixed some problems that most likely caused freezes on long flights. |

French Condor

Still about multiplayer, it seems to us that, once, you talked
about the possibility for two remote pilots to share "actively"
one glider cockpit, a default functionality rarely found on civilian
flight simulators that can lead to interesting activities such as :
instructor + pilot for teaching or pilot + navigator for long tasks
with complex navigation. Is it still on the "to do list" and if so
what is the approximate date of availability ?
| | |
| --- | --- |
| Uros | Yes, this is still very high on ToDo list, however it won't be included in one of version 1 patches as originally planned, but will be a feature of version 2. |

| | |
| --- | --- |
| French Condor | Everybody knows that you develop Condor on your spare time. Isn't it more difficult as the simulator becomes more and more complex ? |
Uros




GR

Well, yes and no. It's easier to upgrade the existing platform as to develop a new product. But as you said, the simulator is becoming increasingly complex and this requires more and more careful development and a good beta team.

Spare time ? This concept is unknown to me since the Condor took off. Joking aside, yes, it requires more dedication than ever. I do not know how we could pull it off without our beta team and the very understanding Condor community.

French Condor

As the fathers of "Condor The competition Soaring Simulator",
what are your dreams for your Baby ?
GR


Uros

And I thought I am still dreaming...


Thanks for asking ! As Gregor said, the biggest dream already came true. I'm completely sure there would be no Condor without dreaming. At the moment, we are already dreaming of Condor 2.

| | |
| --- | --- |
| French Condor | Would you like to say something special to your supporters ? |
GR


Uros

It is indescribable how much we are pleased when we see a happy Condor pilot. You folks are the simply best !

Thank you very very much for your support, this is what motivates us every day !

French Condor

Uros and GR, thank you for granting us this interview and good luck
for your future development. We would also like to address a friendly
word to your families and friends.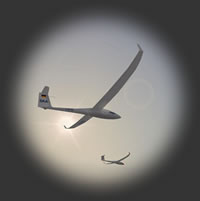 | | |
| --- | --- |
| | Key notes : (1) The interview took place at a time when Eastern Alps was the only available addon scenery. (2) Uros meant that "all four weather conditions listed are planned for V2". (3) Some of the screenshots used to illustrate this page were made by JJJ, Mosquito, Chippyho, Tomcat84 and Tellurico. Thank you very much guys ! Special thanks also go to all Condor artists who post in the Best screenshots thread on Condor forum. |

The Condor Team

UROS BERGANT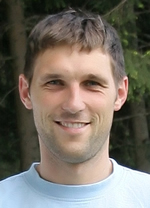 Click to enlarge the picture
•
Age : 30
•
Real job : MSc in physics,
.. now working in aviation
.. meteorology
•
Number of real flying hours :
.. 800 in real gliders, > 1 000
.. with R/C model gliders

GREGOR ROZMAN (GR)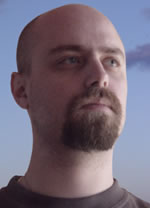 Click to enlarge the picture
•
Age : sadly, every year one
.. more than previous one
•
Real job : engineering lines
.. for food industry
•
Number of real flying hours :
.. while (1) do print ("too few") .. end

THE STORY

Uros and GR are two real life pilots who were initially working separately with the same goal in mind : to create a flight sim where physics would be the main focus... Uros was working on a soaring sim and GR was working on a military jet sim and they did not know each other's project.
Read the
full story
.

The simulator

CONDOR

•
Development : 4 years
•
Date of birth : 04-19-05
•
Place of birth : Slovenia
•
Age : 1 year
Condor The Competition Soaring Simulator is designed to recreate the ultimate experience of competition soaring on your PC.
A lot of attention was put in to create an environment which would create an immersion of real competition flying. This means that the aerodynamics and weather physics were in focus of the development.
The result is amazingly real feel of flight in all flight regimes and weather conditions which challenges a real soaring pilot on a competition day.
Condor is accessible to players of all skill levels. Beside its flight school lessons the simulator has also a number of helpers like visual turn points, thermal indicators, icons for other players planes, etc. which helps player shallow the step learning curve of flying.
For example, in flight school you can actually practice yourself boxing the wake in tow like you would do it in real life...
More about
Condor
.

KEY FACTS

The Condor community is unique in its kind in the flightsim world.
•
A high standard community
•
A friendly atmosphere
•
Over 2150 members (forum)
•
Fast growth
•
More than 43 nationalities
Are you new to soaring simulation ? Do you need some information ? Just ask the
Condor community
.
© Fan site 2006-2008
http://www.condorsim.fr
Contact